This guide covers some common programming choices for the Qolsys IQ Panel 2+ alarm panels with 345MHz radio. This version of the IQ Panel 2+ is compatible with 2GIG and Honeywell legacy sensors.
Part numbers for this panel would be:
QS9201-5208-840 (Verizon)
QS9202-5208-840 (AT&T)
Below is the pathway taken at the panel to access sensor programming. We recommend choosing the Auto Learn Sensor feature.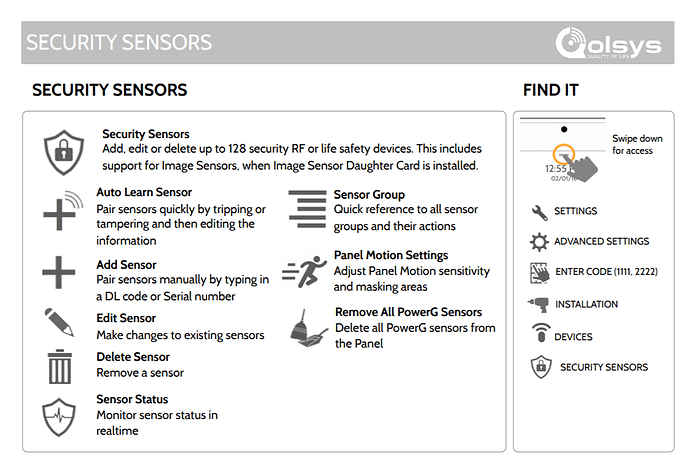 After choosing Auto Learn Sensor, the panel will begin to listen for the sensor's signal. It is at this point that you would tamper or trip the sensor to initiate the pairing process.
For a list of Sensor Group choices, please see this guide here.
Door/Window Contact - Programmed for an Entry Door

Sensor Type: Door/Window
Sensor Group: 10-Entry-Exit-Normal-Delay
Loop: 2
Sensor Name: As Desired
Chime Type: As Desired
Voice Prompts: As Desired
Source: 345RF 2G
Recessed Door/Window Contact - Programmed for an Entry Door

Sensor Type: Door/Window
Sensor Group: 10-Entry-Exit-Normal-Delay
Loop: 1
Sensor Name: As Desired
Chime Type: As Desired
Voice Prompts: As Desired
Source: 345RF 2G
Door/Window Contact - Programmed for a Window
Sensor Type: Door/Window
Sensor Group: 13-Instant Perimeter D/W
Loop: 2
Sensor Name: As Desired
Chime Type: As Desired
Voice Prompts: As Desired
Source: 345RF 2G
PIR Motion Detector - Away Instant Motion
Sensor Type: Motion
Sensor Group: 17-Away-Instant-Motion
Loop: 1
Sensor Name: As Desired
Chime Type: As Desired
Voice Prompts: As Desired
Source: 345RF 2G
Smoke Detector - Smoke/Heat/Freeze SMKT3/8-345

Smoke Programming
Sensor Type: Smoke Detector
Sensor Group: 26 Smoke-Heat
Loop: 1
Sensor Name: As Desired
Chime Type: As Desired
Voice Prompts: As Desired
Source: 345RF 2G

Heat Programming
Sensor Type: Smoke Detector
Sensor Group: 26 Smoke-Heat
Loop: 2
Sensor Name: As Desired
Chime Type: As Desired
Voice Prompts: As Desired
Source: 345RF 2G

Freeze Programming
Sensor Type: Freeze
Sensor Group: 52 Freeze
Loop: 3
Sensor Name: As Desired
Chime Type: As Desired
Voice Prompts: As Desired
Source: 345RF 2G
Carbon Monoxide Detector
Sensor Type:CO Detector
Sensor Group: 34 CO
Loop: 1
Sensor Name: As Desired
Chime Type: As Desired
Voice Prompts: As Desired
Source: 345RF 2G
Glass Break Sensor
Sensor Type: Glass Break
Sensor Group: 13 Glass Break
Loop: 1
Sensor Name: As Desired
Chime Type: As Desired
Voice Prompts: As Desired
Source: 345RF 2G
Food Sensor
Sensor Type: Water
Sensor Group: Group 38 Water Sensor
Loop: 1
Sensor Name: As Desired
Chime Type: As Desired
Voice Prompts: As Desired
Source: 345RF 2G