If you have a Honeywell Vista series panel, you may be able to connect it to Alarm.com using the System Enhancement Module or SEM.
This guide will cover how to determine if your Honeywell/ADEMCO Vista panel is compatible with the Alarm.com SEM and how to connect it to the SEM if it is.
Is my Vista Panel Compatible?
Supported
The SEM is compatible with the Honeywell/ADEMCO VISTA:
Panels should work as long as they were manufactured in 2005 or later and version 3.1+.
You can confirm if your panel is compatible by checking the PROM chip located on the panel control board.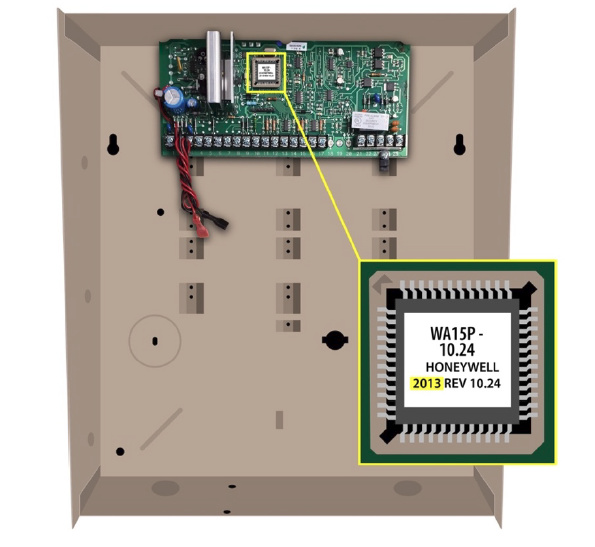 In this example the PROM chip indicates that the panel is a Vista 15P (from WA15P on the first line of the sticker) and was made in 2013 (from the bottom line of the sticker).
Panel variants
The following table displays some of the variants of each Vista panel type compatible with the SEM:
| Honeywell Vista-10P | Honeywell Vista-15P | Honeywell Vista 20-P |
| --- | --- | --- |
| VISTA-10PSIA | VISTA-15PSIA | VISTA-20PSIA |
| First Alert FA130CP | First Alert FA148CP | First Alert FA168CPS |
| First Alert FA130CPSIA | First Alert FA148CPSIA | First Alert FA168CPSSIA |
Unsupported Panel Models
The following panels are common Honeywell/ADEMCO Vista models that are not supported by the SEM.
Vista 20
Vista 20se (Also known as Safewatch Pro 2000)
Vista 20hwse
Vista 15se
Vista 10
Vista 10se
Via-30pse
Vista 32p (all 32 / 32p / 32fb variants)
First Alert FA145C
Vista 50p (all 50p variants)
Vista 128p (all 128 / 128p / 128fb variants)
Any Honeywell Lynx series panel
Should you have one of these panels it would need to be replaced in order to utilize service with Alarm.com/Surety