I have an alarm system from Vivint. Can I reuse it with your service?
Whether or not you could reuse your existing equipment would depend on the panel type you have. That service provider has used a variety of panels over the years.
2GIG Go!Control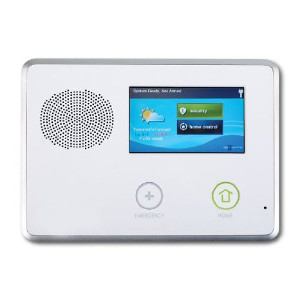 If it is a 2GIG Go!Control panel (would look just like the image above), you would need to get a new Cellular Module as well as a firmware update to your panel. This kit here would get you started. For the LTE module in the kit as of 11/2019, firmware version 1.19 would be required for the module to work with the panel.
Sky Panel
If it is the Sky panel it gets a bit more complicated, the short answer is no, the Sky Panel is proprietary and is not compatible with Alarm.com. A new panel would need to be purchased. Wireless RF sensors would likely need to be replaced as well.
While the Sky Panel has a 345Mhz radio , which is how it communicates with the various wireless RF sensors in use, it is proprietary. Typically, the sensors in use can only be used with the Sky Panel.
You can identify these sensors by their part number. A proprietary Door/Window contact would be the DW11-345. The standard 2GIG door window contact would be DW10-345. The standard version can be used with a variety of 345MHz panels like those from 2GIG and Qolsys.
That one digit helps to denote a proprietary sensor, that would not work as intended on another panel, even if that other panel has a 345Mhz radio. Unfortunatley, the only way to determine the serial number is to check the sensor itself, typically that number is found on the back of the sensor.
What existing equipment can I still use?
If you have the 2GIG Go!Control, you should be fine with a firmware upgrade and module swap (outlined above). Connected RF sensors and Z-Wave devices can still be used.
If you have the Sky Control, or any newer panel, then the panel would need to be replaced. If the sensors can be reused, any 345MHz compatible panel could be obtained. Otherwise you would be starting from scratch.
Its worth noting that Z-Wave devices paired with the panels should work with another Alarm.com panel (with Z-Wave) just fine. You will want to check compatibility guides related to the new panel to be sure.
Another thing to keep in mind is Video Cameras. If you are using cameras currently, note that only Alarm.com compatible cameras can be used with Surety. A list of those cameras can be found here.
If I Want or Need to get a new panel, what can I use?
Below is a list of 345MHz panels that are Alarm.com compatible. If your 345MHz sensors are non-proprietary, any of the panels could be used.
Current
2GIG GC2e and 2GIG EDGE
Qolsys IQ Panel 4 w/ 345MHz radio IQP4003 Verizon and IQP4006 AT&T
Discontinued
2GIG Go!Control,. GC2, GC3 and GC3e
Qolsys IQ Panel 2/2+ with 345MHz radio QS9201-5208-840 (Verizon) QS9202-5208-840 (AT&T)
If you have the Sky Panel and the proprietary sensors, then you would be replacing the panel and wireless sensors, so you could start from scratch. If thats the case, we recommend the Qolsys IQ Panel 4 (IQP4001) which uses 319.5MHz sensors.