The Amazon Alexa platform is an excellent addition to your Alarm.com compatible system. Being able to ask your system to perform commands or learn the status of smart home devices can be very handy and fun.
This post serves as a resource for those interested in utilizing the Amazon Alexa app with your existing Alarm.com service.
But what do I need?
To start you will need, an active Alarm.com account, home automation devices, and an Amazon Alexa device, such as the Echo, Dot, Show, Tap, or FireTV voice remote.
Set-Up Alarm.com with Alexa
To start off, set up your Alexa-enabled device by following the included installation instructions.
Once installed, it's time to pair it with your Alarm.com account.
Using voice commands:
Tell the Alexa enabled device: "Alexa, talk to Alarm.com." Alexa will respond that the Alarm.com account needs to be linked.

Open the Amazon Alexa app on a mobile device or go to Alexa.amazon.com using a web browser.

On the Home dashboard, an Alarm.com card will appear at the top of the app with a Link Account button.

Tap Link Account.
Linking the account
There will be a prompt asking to enable secure actions. Secure actions are security sensitive tasks such as unlocking the door, opening the garage, disarming the panel, etc. and are protected behind a four-digit pin. If interested, tap Allow (go to step 3) otherwise tap Deny (go to step 4).

Enter the four-digit pin and tap Submit.

The account is now linked. Tap the X in the top left and begin interacting with Alarm.com through Amazon Alexa.
Once your Alexa enabled device is set up and connected with your Alarm.com account, it's time to start using Alexa to control your system! This is managed either through the Alarm.com Skill or the Alarm.com Smart Home Skill. Both skills are outlined in more detail below.
To find the desired skills, Tap on the menu icon in the Alexa app, and navigate to Skills & Games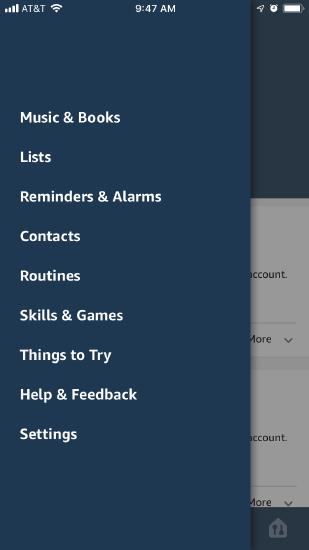 You can then search for Alarm.com to pull up the Alarm.com Skill and the Alarm.com Smart Home Skill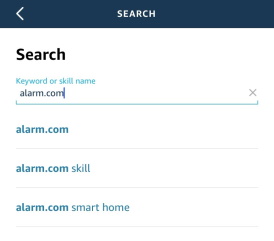 Alarm.com Smart Home Skill
With the skill turned on, you can discover any thermostats and lights. There are few ways to do this:
When tapping X on the confirmation screen, a pop-up window will appear. Tap Discover Devices.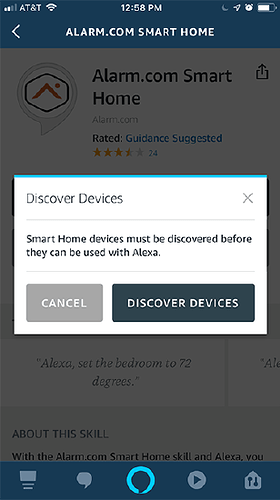 Add devices from the home page.

Ask Alexa. Say "Alexa, discover my devices".
After the discovery is complete, the devices will appear in the Your Devices list.
Alarm.com Smart Home uses Amazon Alexa's Smart Home API which connects your Alarm.com devices directly into the Amazon Alexa. By doing so, The Amazon Alexa Smart Home Skill allows for lights and thermostat commands that remove the need to mention "Ask Alarm.com…" in your request. To interact with that equipment, simply say "Alexa…"
turn on/off the living room light
dim/increase my living room lights
dim/increase my living room lights by 50 percent
set my thermostat to 72 degrees
increase/decrease the Living Room by 3 degrees.
Currently, Alarm.com Smart Home lights (on/off and dimmer) and thermostat adjustment commands are compatible through the Alarm.com Smart Home Skill.
Alarm.com skill
The Alarm.com skill requires you to talk to Alarm.com through Alexa and must contain the interjection Ask/tell Alarm.com. For example, just say "Alexa, ask Alarm.com…":
to Arm Stay my system
to lock my front door
is my garage door closed?
Currently, the Alarm.com skill supports commands for Scenes, Lights, Thermostats, Locks, Garage Doors and your Security System.
Keep in mind, as there are many ways to ask Alexa to perform a task, and this list is growing all the time.
There is no "master" list of commands. While a few examples are provided, a complete list of commands is not available.
It's up to you to experiment with compatible devices and verbal commands. Have a device you want to control but its not on this list? Give it a go and see if it works!