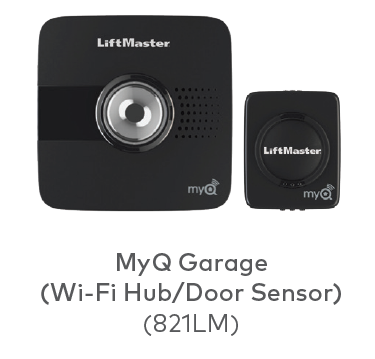 821LM, 821LMB, 821LMC-S, MyQ-G0301, MyQ-G0401-ES
The LiftMaster MyQ Smart Garage Hub is a kit that allows you to integrate a wide range of Garage Door Openers with your Alarm.com account.
It supports two non-MyQ garage doors when coupled with a tilt sensor and up to 16 MyQ devices, such as an 888LM or MyQ-enabled motor. It has one wired connection: AC power. It connects wirelessly to your home network, and the connection is configured via smartphone or PC.
Additionally, it has a speaker and a strobe light/flasher to alert users when the door is closing both audibly and visually, as is required by modern building codes.
How to Determine Compatible Garage Openers
The LiftMaster MyQ Hub works with a wide variety of garage openers.
When checking for compatibility, the garage door opener must have safety reversing sensors which can be found at the bottom of the track of the door. These sensors prevent the door from closing when there is something blocking the path of the door.

Most garage door openers manufactured by the following brands are compatible:
Chamberlain : all garage door openers with the following program button colors on the monitor portion of the operator: yellow, purple, orange, green and red.
Craftsman : all garage door openers with the following program button colors on the monitor portion of the operator: yellow, purple, orange, green and red.
Genie : all garage door openers manufactured between 1996 and 2016. (Intellicode 1 and Intellicode 2)

In 2016, Genie began manufacturing their garage door opener radio receivers so that they no longer are able to be programmed/controlled with LiftMaster/Chamberlain universal remotes. This includes the universal remote built into the 821LM MyQ Garage Universal hub. The year of manufacture can be determined using the first two digits of the serial number on the garage door opener (e.g., serial number (SN) 1420955 would indicate that the garage door opener was manufactured in 2014 and should be compatible). The serial number may be printed in a variety of places on the GDO, depending on the model.

LiftMaster : all garage door openers with the following program button colors on the monitor portion of the operator: yellow, purple, orange, green and red.
Linear : all garage door openers Overhead Door: all garage door openers manufactured after 1996 (Intellicode 1 and Intellicode 2)
Overhead Door : nearly all models manufactured after 1996 and before 2016, using the CodeDodger radio remote receiver.

In 2016, Overhead Door began manufacturing their garage door opener radio receivers so that they no longer are able to be programmed/controlled with LiftMaster/Chamberlain universal remotes. This includes the universal remote built into the 821LM MyQ Garage Universal hub. The year of manufacture can be determined using the first two digits of the serial number on the garage door opener (e.g., serial number (SN) 132744210857OA would indicate that the garage door opener was manufactured in 2013 and should be compatible). The serial number may be printed in a variety of places on the GDO, depending on the model.

Raynor : all garage door openers with the following program button colors on the motor portion of the operator: yellow, purple, orange, green and red.
Stanley : all garage door openers with a program (remote transmitter learn) button on the motor portion of the operator.
Wayne Dalton : most models including Classic drive, DoorMaster, iDrive, ProDrive and Quantum.
Others that are also compatible if manufactured after 1993 : Access Master, AssureLink, BuildMark, Do-It, Garage Access, Master Mechanic and True Value