What is the Alarm.com Flex-IO (ADC-FLEX-100)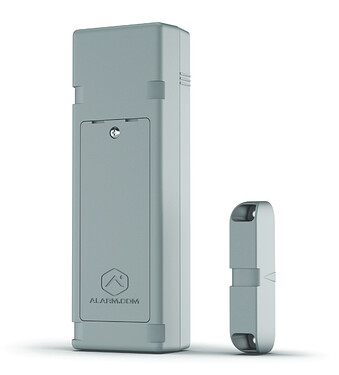 The Flex IO is a 4G LTE capable contact with 3 unique reed switch locations. It enables new levels of flexibility for monitoring valuable property and assets anywhere that LTE connectivity is available. Whether used with a backyard gate or a remote storage unit, the Flex IO empowers users to keep an eye on what matters most. It can be used with the included magnet to monitor doors, gates, and other entryways. It also comes equipped with input and output options for integrating compatible devices that lack long-range connectivity.
Features
Detect open/close using magnetic reed switch
Detect state change for third-party device using Loop Input
Change state of third-party and device using Relay Output (requires DC power to support always-on cellular connection)
Notifications
Flex IO supports Sensor Activity and Sensor Left Open notifications. At this time, notifications can only be sent when an open event occurs for a Flex IO device.
Note: The Flex IO is designed for property awareness only and cannot forward signals to a monitoring station.
Use Cases

Contact Sensor using built in reed switch. Allows you to use the Flex and built-in reed switch to monitor if something is opened or closed, such as:

Shed Doors
Storage Units
Chicken Coop
Fences
Delivery Boxes
RV Doors

Wired Contact Sensor using wired loop input. Wired Contact Sensor allows you to wire a contact sensor to the Flex using the loop input terminal

Install the Flex in a discrete and convenient location and wire the sensor to your door, window or entry point

Pull-Apart Sensor using pull-apart or Magnapull sensor. Wired Contact Sensor allows you to use the Flex with a pull-apart or Magnapull sensor. This could be used to determine if something is moved from its location. Great for:

Lawn Mowers
Yard Decorations
Jet Skis
Boat Lifts
Motorcycles Machinery
In the box
Optional EOL (end of line) resistor to detect cut wires. EOL resistor can be 300 kΩ or higher. Normally Open configuration is preferred for low power usage.
Optional mount tamper and battery door tamper alerts• Multiple mounting options, including screws or zip ties.
Multiple carrier options, including AT&T and Verizon (US only).
Specifications
Ingress Protection: IP56
Temperature: Battery life will be optimal between temperatures of 32°F to 140°F (0°C to 60°C), though the device can operate from -40°F to 140°F (-40°C to 60°C).
Reed Switches: 3 unique reed switch locations to choose from that can be activated with included magnet.
Loop Input: Flex IO can be powered by battery or external power. Dry Contact, Normally Open (NO), or Normally Closed (NC). Optional EOL resistor can be 300 kΩ or higher.
Relay Output If used, Flex IO must be externally powered (not compatible with battery power). Up to 24 V (AC or DC), 40 mA max current. Can be used only for control lines/dry contact. Can never be connected directly to control electrical loads. This will damage the device.
Dimensions: Main unit: 6.8 x 2.2 x 1.3" (17.3 x 5.6 x 3.3 cm). Magnet: 3.1 x 0.68 x 0.87" (7.9 x 1.7 x 2.2 cm).
Power: Works with DC-wired power or battery power (battery backup recommended for wired installations). 6 to 15 VDC supply. Minimum 1 A.
Battery Power: Four 1.5 V AA lithium batteries (iron disulfide). 2+ years of battery life, depending on battery chemistry and operating temperature.|